Additional PRO-ATC/X voice sets
The idea is that users may produce they own voice sets so that the records may be used later in PRO-ATC/X as a controller/pilot/copilot voice set by the speaker itself and by other users - of course for free.
You may download a program we have developed for this purpose. It makes recording PRO-ATC/X voice sets as easy as possible "Click here for download.".
How to do?
The recording tool displays a list of all phrases and words used in PRO-ATC/X, you just have to read these while recording. With a click on "Rec" you start and with a click on "Stop" you stop recording. Click on pause if you have to interrupt.
If you are not sure how to pronounce a specific word, just click on "How it should sound like". Clicking on "Stop", your record is saved automatically into the right file, which is placed into a subfolder.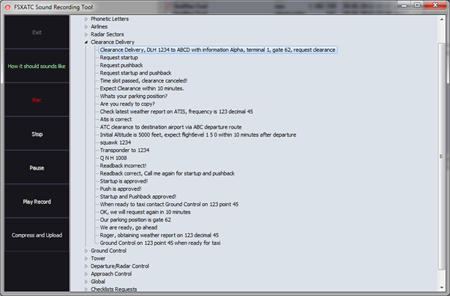 All words and phrases recorded. How to proceed?
Your recorded sound files have to be sampled in a special way to sound like a radio transmission. This job is done by us. Therefore you have to upload your records onto our server...
Uploading your files
Clicking on "Upload" your sound files will be compressed into an archive and uploaded onto our server. Your voice set will be available for download as soon as we have completed sampling your records.